Richard C. Butler Award of Merit -- Restoration of Cascading Waterfall at the Old Mill, North Little Rock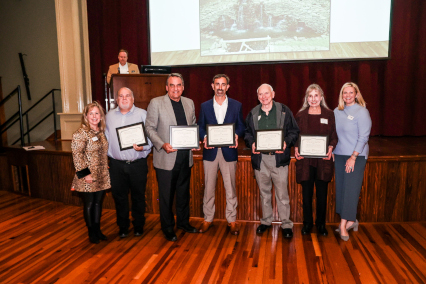 The Old Mill, located in the T.R. Pugh Memorial Park in North Little Rock, is a central Arkansas Landmark. It is a historic re-creation of an 1880's water-powered grist mill and is famously known for appearing in the opening scenes of the classic movie "Gone With The Wind." It features sculptures by Senor Dionicio Rodriguez and in recognition of its significance, was listed in the National Register of Historic Places in 1986.
There was not a cascading waterfall on that north bank of the Old Mill originally. Several years ago it was decided that would be a lovely feature to compliment the stonework on that site, so a cascading waterfall was put in. Massive rainfalls in August of last year rushed down the upper bank and collapsed all of the original stonework.
Planning for the project took several months and the construction took 5 months to complete. Construction costs were approximately $200,000. The project contractor was Brian Enley of JCON, Inc and the Parks Department did quite a bit of work to assist with the construction-final product in-house.
The QQA recognizes the team responsible for restoring the cascading waterfall at the Old Mill in the T.R. Pugh Memorial Park: North Little Rock Mayor Terry Hartwick; Steve Shields, Director, North Little Rock Parks Department; Chris Wilbourn, North Little Rock, Chief Engineer; Sandra Taylor Smith, Director, North Little Rock History Commission & Vice President, Friends of the Old Mill; Bert Turner, President, Friends of the Old Mill; and Brian Henley, JCON Inc., project contractor.