Richard C. Butler Award of Merit -- The Crumley House, 512 Willow Street, North Little Rock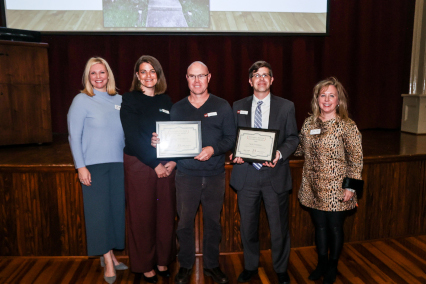 512 Willow Street, a contributing resource of the Argenta National Register Listed Historic District in North Little Rock, sustained catastrophic damage when a tree fell on the house in 2019. According to Sandra Taylor Smith, North Little Rock Preservation Officer and Director of the North Little Rock History Commission, "we were devastated when we saw the damage. We anticipated the owners of the house would seek authorization for demolition." Fortunately, she was mistaken. Originally George and M'Liss Collins planned to restore the house, but due to some obstacles they were not able to overcome, Neil Denman and Daniel McElderry stepped in to purchase the property and undertake the work.
The inside was a total loss with tree damage, extensive water damage, and mold. They installed solid hardwood interior floors throughout. All cabinets are new. All wet area surfaces are subway tile on walls and penny tiles on the floors. All of the mechanical systems, electric, HVAC and plumbing are 100% new. Amazingly, even with the extensive damage from the tree, they were able to salvage much of the historic exterior fabric, they were able to save: approximately 75% of the exterior wood, the porch columns, the rock work on the porch foundation, all window frames, and all of the existing windows.
They took advantage of the federal and state historic rehabilitation tax credits and also an incentive from the Argenta Community Development Corporation.
The QQA recognizes the team responsible for saving the Crumley House at 520 Willow Street, Argenta, National Register Listed Historic District: Neil Denman and Daniel McElderry.